Kitchen Cabinet Department
Our kitchen cabinet selection is both traditional and contemporary in style. We offer our product line to both residential and commercial customers in the Pittsburgh area. Our selection ranges from favorites such as maple and cherry, to exotic woods such as bamboo and zebrawood.
If you've never remodeled your kitchen cabinets, or are installing new kitchen cabinets for the first time, there are many considerations to make. We have a team of experts in our showroom that take a no-pressure approach to your visit. We'll answer your questions honestly and openly without pushing you in the direction of the most expensive cabinet. However, there are a couple of things you might want to consider before visiting any kitchen cabinet company.
As a wholesaler, we offer commercial casework and free design service to trade; as well as on-time job site delivery. We also stock business grade cabinets for apartment management and home renovators who are in need of an immediate kitchen. For home remodels in the Pittsburgh area, we offer wholesale major appliances for sale.
Style
One of the most important decisions in purchasing is the style of the kitchen cabinets. Think about the type of home you have. Is it contemporary, or Victorian? Often times, consumers select cabinets that compliment the style of their homes. Other times, consumers choose to make a bold statement and select a kitchen that contrast with the home's original design. We can assist you picking the best products that tastefully enhance the beauty of your home. If you like, our consultants can suggest products and designs for your consideration. In short, we can take your dreams and plan a kitchen that reflects you style.
Wood
A big consideration of the style of kitchen cabinets you select is the wood type. We offer kitchen cabinets that are pine, oak, cherry, maple, hickory, alder or plastic laminate. Selecting a wood is nearly as important as the style you choose. Dark woods are rich in color and can often be a stand out feature of the kitchen. Wooden cabinets are more durable than laminate and are paintable – so you can customize them to your home colors. If your home is often humid, you might opt for laminate kitchen cabinets, as they won't warp in humid conditions like wood cabinets can.
The color of cabinets you select dramatically affects the appearance. Dark woods, such as cherry or mahogany, are elegant and are growing in popularity. They easily hide dirt, such as fingerprints, so this might be a good option if you've got young children in the home. Lighter woods brighten up a kitchen. They make a smaller kitchen have the impression that it is much larger. The amount of natural light and lighting should play a role in your cabinet selection. Many people prefer the plastic laminate kitchens which come in the widest variety of design and colors. Plastic laminate cabinets create a clean and sleek European style appearance.
All species of wood come in a variety of door styles. Raised panel, flat panel and recessed panels are just a few of the options for your consideration. We display many options of cabinets on our showroom walls.
Price
For many home owners remodeling their kitchen cabinets, price is one of the most important considerations. Kitchen renovations can be costly so you will want to select products that are within your budget. We represent various manufacturers that cater to different segments of the market and price levels. We can give you options so you can pick the cabinets that best fit your budget. Since we are a wholesaler and buy directly from the manufacturers, our prices are very competitive. In any event, updating your kitchen is a big investment that enhances the beauty and value of your home. You will want options for both the style and cost that are best suited for your individual needs.
Of course, you can always purchase cabinets that are a blend of expensive and less expensive. Spend your money wisely. For example, kitchen cabinets are going to be seen by most visitors – so it might be wise to spend more on them. Cabinets in your basement, garage or laundry room can feature less expensive cabinets – because most house guests won't see them as much or expect stylish and expensive cabinets there.
Hardware
Kitchen cabinet hardware is nearly as important as the cabinets you select. Again, if price is your main consideration, let us know your range and we'll point you in the right direction. Typically, darker cabinets should have a dark hardware that accents the dark color well. Black, dark color paints or copper are good selections for dark kitchen cabinets. Cabinet hardware can be very plain (cost-effective) or very intricate (more expensive).
Lighter kitchen cabinets, or white cabinets, should have a lighter hardware. Think about selecting hardware that is white, brushed nickel or silver.
Aside from color, think about the design of your hardware. A simple knob is the most common, but some people prefer to have a handle. Knobs are simple, usually less expensive and easier to install. Handles can be more intricate, which can often raise their price, and have two screws to install them. We have dozens of each in our showroom and within our inventory.
Watch Our Kitchen Cabinet Video!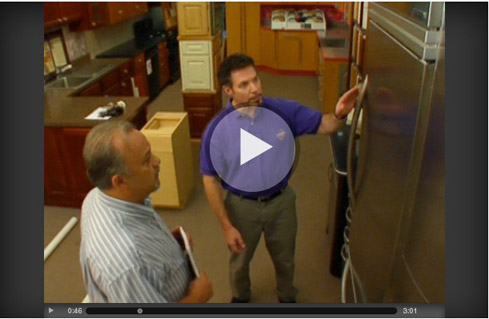 Brands We Carry: