Stock STC/SCIF Door Program
Talk directly to one of our STC/SCIF Door Experts. Call (571) 491-7522
Single Doors sized as both 3070 and 3080 lab rated STC 50 and 52 Doors
Double Doors sized as both 6070 and 6080 lab rated STC 50 Doors
Houston-Starr maintains custody from our warehouse to the jobsite providing the fastest lead-times in the industry.
Mid-Atlantic service area lead-times are dependent on specific job requirements and size of project.
Wall Conditions The partition can be prebuilt using our split jamb frame. We are able to accommodate wall throat sizes ranging from 5" to 12".
Complete Opening Installation by Houston-Starr's factory certified installation team allows your client to have a high quality install to ensuring your sound door assembly performs and your client can focus on their mission.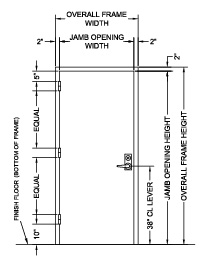 Click for larger pdf image of illustrations
Hardware Options Available
Lockmaster LKMs
Sargent and Greenleaf 2890B
Mortise Lockset
Cylindrical Locksets
Rim Exit Devices
CDX-10
Closers both Regular and Parallel Arm
Other Hardware Applications maybe available upon special request.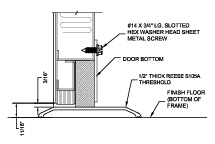 Click for larger pdf image of illustrations
Anchor Options
Heavy Gauge Partition Wood Stud
Metal Stud (Built-in)
Concrete / Masonry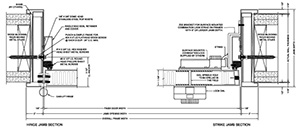 Click for larger pdf image of illustrations
Drywall Partition Construction
Recommendations:
While constructing your partition, please consider that your will door will weigh approximately 300 lbs
Please note heavy gauge stud must run from the floor to the deck
Please install wood blocking inside the steel stud to allow for the wood lag screws to anchor correctly to the partition.
Rough opening requirements:

Rough Opening Width = Nominal Width of Hollow Metal Door + 3"
Rough Opening Height = Nominal Height of Hollow Metal Door + 1-1/2"
Flooring
Please make sure your floor is level to allow for the bottom door seal to operate correctly.
This door cannot be installed on a raised floor, a partition must be built underneath the opening to support the weight of your door and frame assembly.
Painting
Please make sure that your paint is fully cured before coming in contact with the sound seals. Typically latex paints take at least 30 days to fully cure. Please check with your paint manufacturer for your specific curing time.
Please make sure not to paint any of the seal or hardware on the STC door. Painting the seals will damage the gasketing and could impact your acoustical performance.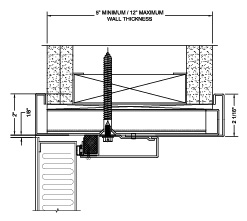 Click for larger pdf image of illustrations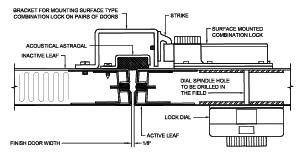 Click for larger pdf image of illustrations
---
Talk directly to one of our STC/SCIF Door Experts. Call (571) 491-7522